B&B/minshuku @ Miyajima: Nakaya B&B

Welcome to Nakaya.
Nakaya is a small bed & breakfast/minshuku which opened on November 1st 2011 on Miyajima, the island with the Itsukushima Shrine - a World Cultural Heritage and Ramsar site.

Excellent location: 4 min. to the shrine / one block to shopping arcade
It is located on Machiya street, which was the main street in Edo period, and is about 4 minutes walk to the shrine, 7 minutes walk from the pier and one block away from Omotesando Shopping arcade.

Unique Accommodation: Japanese House
Guest rooms are in a Japanese house build in 70's and lounge/dining house used to be a grocery store.

We may not be able to offer hotel/ryokan-like convenience and services but these unique settings can provide you with a cosy and friendly atmosphere like staying at your friend's or relative's house. And by staying with the owner family, you could even experience a slice of ordinary local life on Miyajima.
(*All rooms have locks for privacy, and toilets and a shared bath/shower room which also has locks for private use.)

The owner speaks English
Just like a personal concierge, the owner will help you and answer your questions as much as she can.

A Day trip is NOT enough!
Miyajima island has not only the Itsukushima Shrine but also great nature, beautiful sunsets and night views, delicious local dishes and more. You would miss all this if you visit the island for only a day!

Budget price offer
Just like other tourist sites, staying on Miyajima could be expensive. We offer you budget price so that you can enjoy Miyajima fully.

Make reservation now!
Because of limited number of hotels and ryokans, it is hard to stay over on the island on high season; March, April, May, July, August, October and November.
If you are planning to visit Miyajima on these months, make sure you have reservation before your visit!





I hope you would visit Miyajima, the island with the World Cultural Heritage and Ramsar site, and enjoy its beauty, culture, nature, food.... everything!

Thank you!
R. Nakaya
Owner

NEWS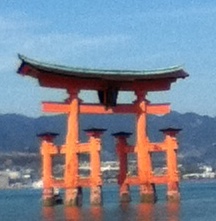 July 3, 2012


Miyajima has been listed under the Convention on Wetlands of International Importance - Ramsar Convention.

<Extract from Ramsar website about Miyajima>
Miyajima. 03/07/12; Hiroshima; 142 ha; 34°14'34"N 132°16'09"E. National Park, UNESCO World Heritage site. A natural coastal wetland consisting of sandy shores and intertidal marshes on Miyajima Island within the Seto Inland Sea National Park in the northwestern part of Hiroshima Bay. The site is well conserved compared to other parts of the coast along the Seto inland sea that have already been lost due to bank protection work. Spring water from Mount Misen mixes with the inflow of seawater to form brackish tidal marshes that provide an ideal habitat for the vulnerable Orthetrum poecilops miyajimaensis, a subspecies of the IUCN red-listed Mangrove skimmer Orthetrum poecilop. Miyajima is the only site in the world where this subspecies has been recorded. The wetland lies within the Itsukushima Shinto Shrine World Heritage site. Ramsar Site no. 2056. Most recent RIS information: 2012


---
---